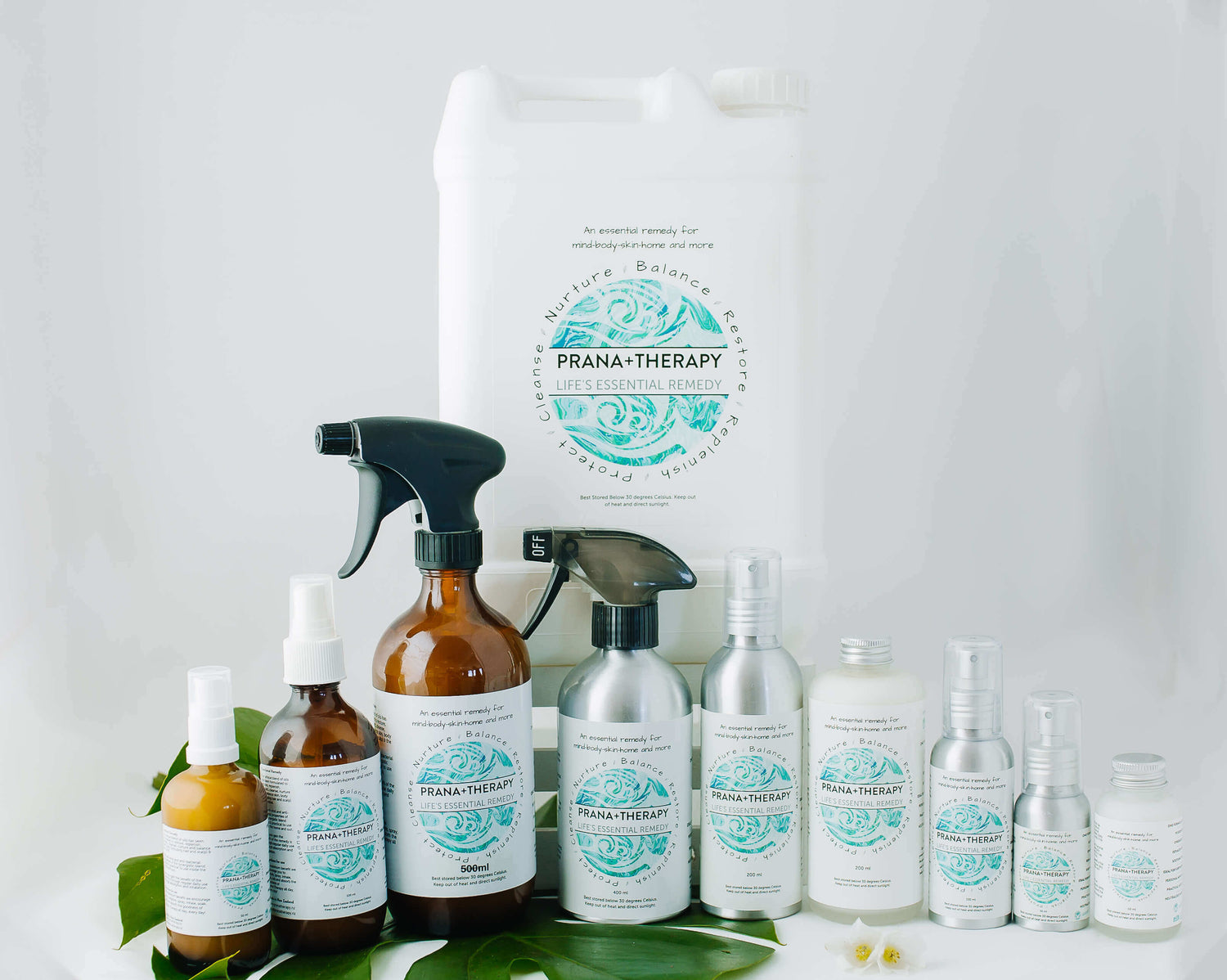 Why different containers?
We want you to feel comfortable using our product, so we've made it easy for you to keep the remedy with you at all times. Prana+Therapy formula is packaged in different containers so that you can have it handy in your purse or backpack, at home, the office, gym or anywhere else you go. We also offer packaging that is adaptable for those moments when you need a finer mist for particular therapies, such as; nasal and eye use.
50 ml and 100 ml are perfect for taking with you in your handbag, in your car, or in your gym bag. 
200ml in your bathroom for personal use, 
400ml & 500 ml can be used in the kitchen and bathroom. 
 5kg and 20kg are to refill your smaller containers, or for those bigger jobs like washing floors.
Have you reviewed our document with all the uses that we know of and the protocols?
How does the remedy work?
Prana+Therapy is a functional remedy. Harnessing the power of botanicals to address the challenges of everyday life.
Regardless of how you use Prana+Therapy formula, as a cleaner, skin treatment or first aid remedy, with each and every use, you receive healing benefits through inhalation and absorption.
The Prana+Therapy blend of 19 pure organic essential oils, is formulated in a water ratio dilution that makes this formula both effective and at the same time safe for all people and all animals.
Prana+Therapy is ideal for counteracting harmful pathogens that can play havoc with your health, as the essential oil infusion is anti-bacterial, anti-inflammatory, antispasmodic and anti-viral.
Amazingly this single formula works collectively to restore, nurture and balance a multitude of skin and other bodily afflictions. As well as purify, clean and energise your home, office, and even care for your pets.
This is why we call it "Life's Essential Remedy".
LEARN MORE ABOUT THIS AMAZING FORMULA
View All
Aluminium is one of the most recyclable products available.
To create a more sustainable product we offer these aluminium containers which are non-leeching and refillable.  We also offer
trigger and mister replacements.
Infused with the cell renewing Prana+Therapy formula of 19 essential oils our Mana Bohdi Skincare range will leave your skin looking & feeling amazing.
Our glass containers are a stylish addition to any kitchen or bathroom counter.
Our bulk containers act as refills for all the smaller containers.  They are also practical for cleaning floors and laundry.  Perfectly suited for health and wellness practitioners.
View All
The synergistic blend of 19 essential oils has incredible healing properties for the skin which is why we have infused it with other products to maximise its effectiveness.
What Customers Say
LOVE LOVE LOVE My Prana+Therapy
LOVE LOVE LOVE my pranatherapy spray! Not only do I use mine as an eco cleaning product (we have a eco septic tank) but I also use it in my diffuser, bedlinen & bathroom spray, in my car and on my (very smelly) dog! #natureshero As a mum who lives with all boys, it's a win/win. Highly recommend!!
Esme
Google Review
This got me Hooked (and it saves me money)
I was looking for a product that I could keep handy on my dresser to refresh my skin, remove make up etc... a retail assistant suggested this product, telling me it would do all that and so much more as it also tones and cleanses skin plus more... I was skeptical at first but after using on my skin Heavenly Creature leaves me with a feeling of being refreshed (I love it so much more than what I was using before, and cheaper too!) and it so much more versatile, I can even clean with it...
My favourite use is to spray it around my rooms and breathe it in... it makes my home smell fresh and inviting - people are always complimenting on how my home smells so nice...
I now buy 5KG Eco Warrior and use it to refill other products in the range...
Thank you! xx
I used to hate cleaning now I love it!
My home smells amazing, my surfaces sparkle, and I feel good after using Clean Fiend, (vs the headaches I used to get from the spray & wipe I used to buy), I love that it's also safe to use around my pets.... and it's great that I can re-fill the bottle, so I feel like I'm doing my bit for Mother Earth too. :) Thank you for creating this fantastic product!
We use Prana+Therapy as a mat and equipment cleaner
At our Lotus Studio, Yoga & Pilates. It cleans and refreshes the mats and equipment. The students all love the soothing fragrance.
This product has become an integral part of my life.
My kids and wife and I use it for everything. Health, happiness, cleanliness are all included in this perfect mix of essential oils. a must in everyone's life! Buy a ton now! If you "get it" you'll use it all day long.
Prana Therapy is such an amazing product😍
I have had psoriasis in the past and Prana has soothed and completely eliminated it.
I also like to use it as a hand sanitizer on the go.
And as a sanitizer in my home. It smells divine and creates a very relaxing environment 💙
Absolutely love it. I Was given heavenly creatures (previous branding) 200ml container as a Christmas gift and used firstly as a face spray/refresher but quickly learned it's great for so much more. Burns, scratches, cuts, heal so much quicker.. the catchphrase in our house is 'prana it!'
IDK HOW IT WORKS BUT IT SEEMS TO CLEAN UP ALL MY MESSES
I'm such a messy person hahah. my work desk where i study is low key disgusting but i have a bottle of clean fiend on my desk which helps with keeping the area clean and have a sparkle to it. unlike other products its all natural so im not constantly inhaling poison, id like to think that it helps with my grades too.
MIRACLE HEALER!
I had a burn mark near my right elbow and sprayed just a little bit on it yesterday. No redness, no tenderness today! And barely a mark left. I LOVE THIS!!!
NEVER LEAVE HOME WITHOUT IT!
Always keep in my handbag, love the way I can use it to cleanse my hands when I'm out. Also good for a quick lift, I love spraying it into my hands and breathing it in, really helps to calm me down. Plus, when I was out and about and the other day I got a mozzie bite, I just sprayed it on, and the itchiness and redness went away in no time. LOVE THIS.
Claire
Website Review, Oct 2020
Wendy Shutt
Google Review
Louisiana Swamp Rat
Google Review
Rachael Gibb
Google Review
Liane Granger
Google Review
Grace Partridge
Website Review
Winni
Website Review Aug 28 2020
Sarah
Website Review Oct 31, 2020
Great value bundles, kits and packs that make ideal gifts.
The packs are also a great way to try out a range of Prana+Therapy products which are designed to work in synergy with each other.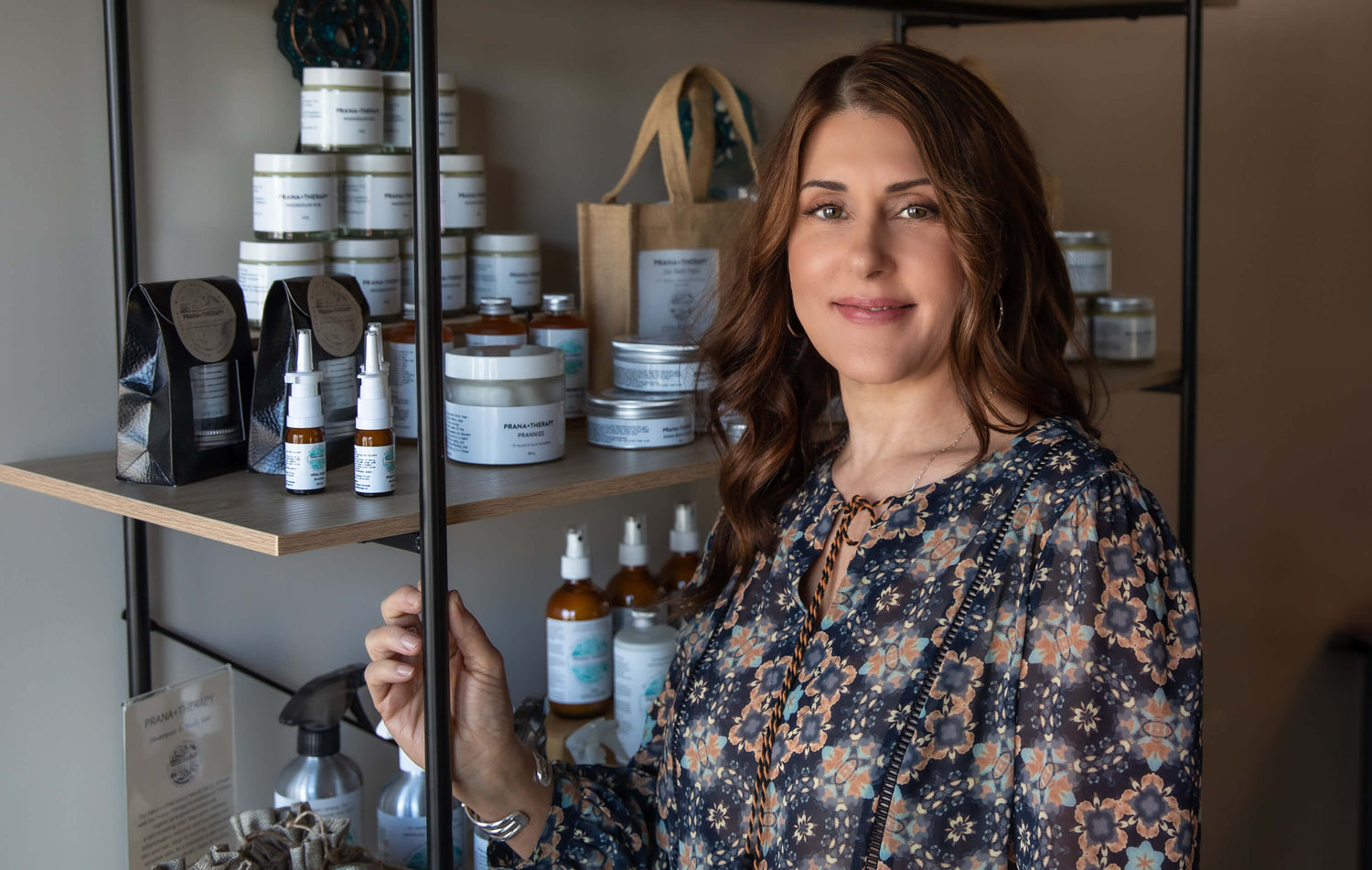 Hi, I'm kimberley gabbard creator of the Prana+Therapy formulation
I love to teach people about the amazing benefits of essential oils and how they can work in harmony with your body's natural healing ability. My goal is to share my knowledge and experiences, in the hope that my formula will be able to benefit you as much as it has mine and my families. After discovering how effective and functional my formula was, it has been my vision and mission to offer it to people. More importantly to help them find a way to solving their own wellness issues, so they can live life to the fullest! My passion for health and wellness started over 20 years ago when I was tired of taking the chemical treatments for my own severe asthma. I decided to undertake studies at the California College of Ayurveda and have been working with healing oils and other Aromatherapy practices ever since.
Learn More
Blog posts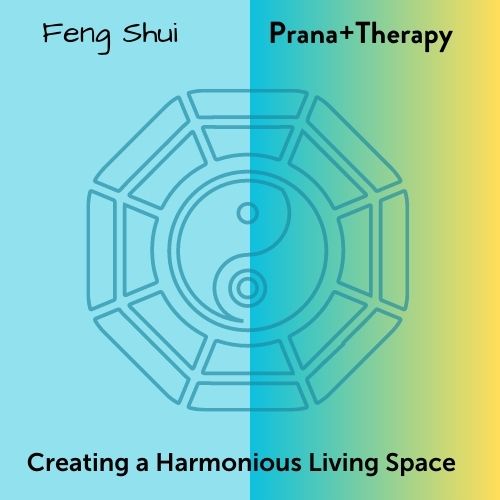 Declutter and organise your living spaces to promote harmony and positivity. Feng shui and Prana+therapy are great tools to creating a peaceful space that supports your health and happiness. If you are looking for tips on how to create a harmonious living space, in this blog we discuss you how you can achieve that.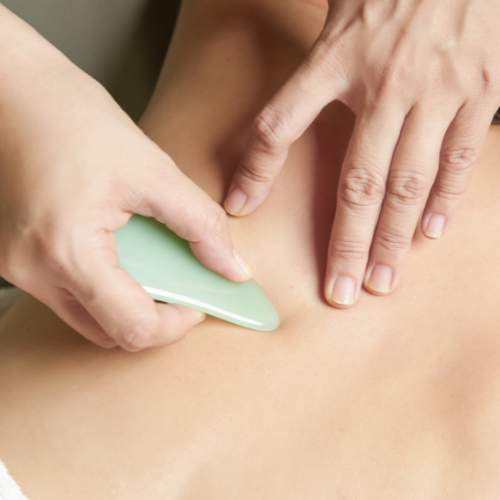 In this blog, I discuss the importance of lymphatic massage with Gua Sha and how it detoxifies The Lymphatic System. Additionally sketch out a plan for incorporating this technique into your daily routine to optimize health, energy and beauty!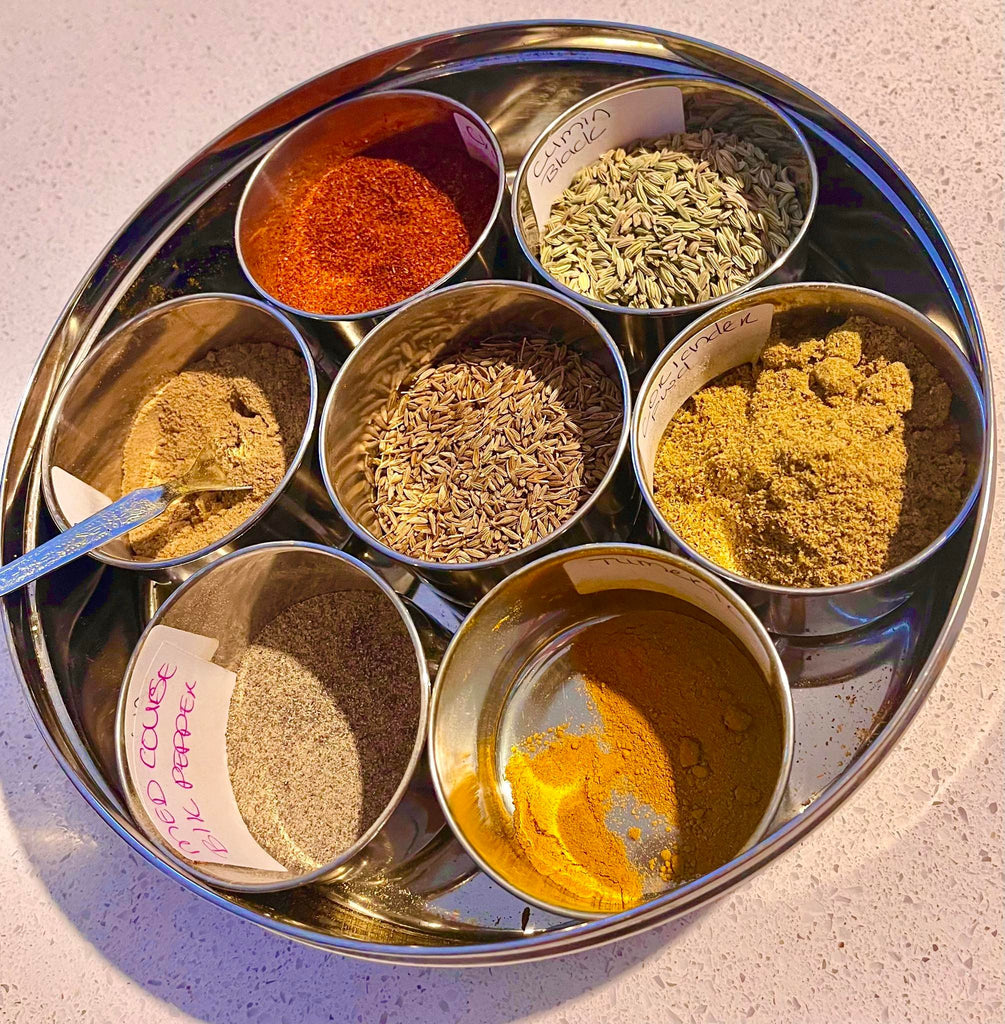 Kitchari, it is a traditional Ayurvedic dish used for cleansing. Kitchari fasting is one of the most powerful ways to cleanse your body and a simple and effective way to detox your entire system.  For 25 years I have been fasting with this ancient process between seasons and share my recipe with you.